A day to inspire, connect and celebrate mothers and caregivers in Chaffee County!
We invite you to spend a day in celebration of all that you are and all that you do as a mother and caregiver. The last two years have been full of challenges, hard questions, and exhaustion as we've all tried to parent in a pandemic. The Mountain Mama Summit is a day for you to feel inspired, connected and celebrated. We have an incredible lineup of speakers – local and national – to reinvigorate you as a parent and as a person. This event will be a time to connect with others around you – new friends and old friends. And whether you hug and laugh or break down crying, we want you to feel like you're in a community of people who care for you, just as you are. And to celebrate you, we have a gift bag full of incredible local gifts, prizes galore, massages and a catered lunch.
We also have a Mountain Mama shirt for sale this year! Pick up at event. CLICK HERE TO ORDER A MOUNTAIN MAMA TANK TOP! Orders must be placed by 3/31.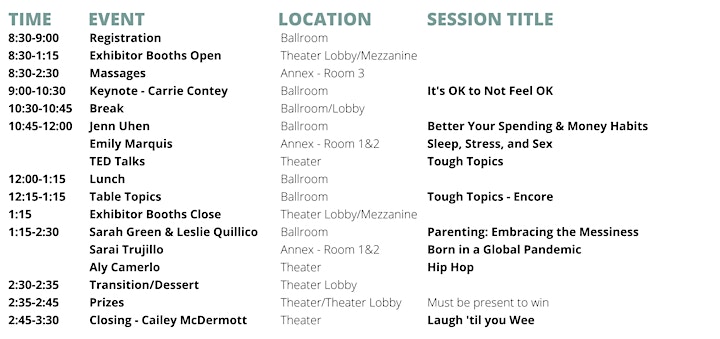 Some other important details:
*Registration, massages, and booths open at 8:30. Keynote starts at 9!
*Babies in arms (non crawlers) welcome to join their parent.
*A nursing/pumping room available
*This is for mothers and caregivers of kids of ALL ages, including pregnant individuals.
*COVID precautions: We will follow current COVID precautions in place at the time of this event. At this time masks will not be required, however you are welcome to wear one. At registration, you will be asked to sign an attestation stating that you are vaccinated, or have had COVID in the previous three months or have taken a test within 24 hour of event AND are not currently sick. We will have rapid tests available for free if you would like one.